My son in law Dwight and daughter Natasha are second to none when it comes to your custom printing.   

They are able to print on a wide range of fabrics.

Stop in today and see the difference!

SuperiorTEES for Screen, Embroidery and Digital Printing

Why wait?  Get your message out today!

Their pricing is extremely competitive.

You won't be disappointed!

Stop in or call them at 941-921-9286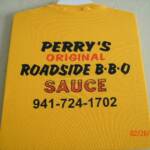 Click on picture to view larger image